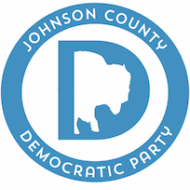 Johnson County Democratic Party
Our 2022 Convention has been re-scheduled for 10:00am Saturday, April 30, 2022 and will be held at the Buffalo Senior Center.
County Convention
April 30, 2022
Buffalo Senior Center (671 W Fetterman St, Buffalo, WY 82834)
Registration open at 9:30 AM
Call to Order at 10:00 AM
Resources:
Call To Convene
Johnson County Convention Proxy Form
2022 Delegate Nomination Form
Agenda Documents
Proposed Changes to Platform-2022
Scholarship Documents for Vote
10:00am Call to Order – County Party Chairman
Pledge of Allegiance, Opening Remarks, and Recognitions
Report of the Credentials and Ballots Committee
Election of Delegates to the State Convention
Convention votes whether to send full or half delegates to the State Convention.
Convention nominates and selects Delegates.
Consideration of the Platform and Resolutions
Platform is presented by Chair of the Platform and Resolutions Committee.
Platform is debated and amended by convention
Platform is adopted by the convention
Other Business
William D. McIntyre Memorial Scholarship
Adjourn 12:00pm