You are invited!
2023 Dems Gathering – Wyoming Democrats – Here for good…
Kearney Hall, 4444 US-87, Banner, WY 82832
Saturday, June 17, from 4-7 pm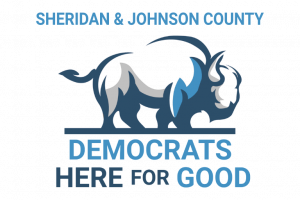 Save the date!
Sheridan and Johnson County Democrats are invited to meet and have fun with kindred spirits. Bring the whole family and all your left-leaning friends! Your $10 donation will help defray the cost of the venue, supplies, decorations, main dishes and beverages that will be provided. But also feel free to bring a side dish or dessert to share – potluck style!
To help us know how many to plan for, or to donate today instead of on June 17th, please RSVP with this button.
The button will take you to ActBlue and then ActBlue will send you back to this site.
For questions about music:

Contact Mitch at (307) 620-1597

For questions about Auction:

Contact Vikki (307) 620-9055
Optional "bring-alongs":
outdoor games
lawn chairs
your musical instrument if you'd like to join in an informal jam
a dish to pass for a potluck/ picnic feel
a favorite dessert or service you'd like to donate as an auction item (let us know ahead of time so we can describe and display it).
Help needed:
Parking lot manager
Kitchen helper
Auctioneer
Help get the word out by contacting friends
Provide a donation to the auction
Help set up/take down
Our Dems contact information is limited, so help spread the word!
Hope to see you on Saturday, June 17th!
Additional Questions? send us a note!